Osaka Headquarters
Portus Center Building 5F
4-45-1 Ebisujima-cho, Sakai-ku, Sakai, Osaka, Japan
Access route
The office is 32 minutes by train from Shin-Osaka, or 36 minutes by train from Kansai International Airport.
The office is a 2 minute walk from the west exit of Sakai Station.
YUKE'S is located on the 15th floor of the Portus Center Building.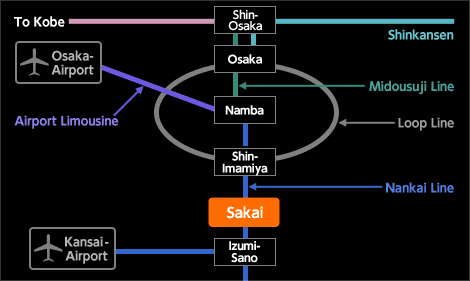 Yokohama Studio
Yokohama Minato Daiichi Seimei Building 11F
6-6 Kinko-cho, Kanagawa-ku, Yokohama, Kanagawa, Japan
Access route
Yokohama is 30 minutes by Limousine Bus from Tokyo (Haneda) Airport, or 30 minutes by train from Tokyo Station.
Our Yokohama Studio is a 5 minute walk Yokohama Station, from the station's Kitahigashi (Northeast) Exit A. It is located in the Yokohama Minato Dai-ichi Seimei Building (reception on 11th floor).